Main content starts here, tab to start navigating
Available for Phone-in/Take-Out/Walk-Up, limited outdoor patio dining, online ordering via ChowNow*, and delivery; We offer delivery services through WAITR & GRUBHUB, or please call (504)866-4222/4241 to place an order directly**
THURSDAY: 4-8pm
FRIDAY, SATURDAY & SUNDAY: 12-8pm
We encourage everyone to *order online via ChowNow for Carry-Out/ Pick-Up. **Please allow direct phone-in carry-out orders to be limited to those with dietary concerns, specific questions regarding our available menu, and orders involving groups of 10 or more people.
**Delivery services are charging and additional 30% in commissions, platform usage, and assorted fees to businesses utilizing them, which, by necessity, results in inflated costs per item to you, the customer. COWBELL offers delivery services; We do not recommend them.
Instead, please consider stopping by, utilizing our curbside options or patio dining, enjoying $6 cocktails or $4 local beers while waiting, or dining safely whenever you've got "the fever for more COWBELL." We miss seeing your faces!!
**PLEASE DO NOT leave your order on Voicemail or email; If directed to voicemail during posted hours of operation, please wait a moment, and try your call again.
PRO TIP: Check out our Adult "Hooch" menu for useful, reasonably priced bottled WINE, COCKTAILS, and bottled/canned BEER to enhance those moments when you've elected to hide from your children.
-Curbside pick up will be provided. You will receive instructions when ordering so as to easily expedite this service platform.
-Hands-free QRC menus are available
-Please follow/like us on instagram @cowbellnola8801, and facebook & twitter @cowbellnola for daily menu updates and information. Tagging @cowbellnola8801 makes us smile.
Be Well.
Wash Your Hands.
Wear Your Mask.
STARTERS
Today's Soup

Corn Chowder w/Turkey & Roasted Poblanos

$6.95

Mixed Greens Salad

w/baby tomatoes, shaved onions, cucumber, house sherry-maple vinaigrette

$6.95

Kale Salad

w/goat cheese, candied pecans, green apples, sherry-maple vinaigrette

$7.95

The Love Brussel

w/roasted brussel sprouts, smoked bacon, macrona almonds, red flame grapes

$7.95

Cowbell Signature Mac & Cheese

cavatappi pasta, four cheese blend, roasted poblano peppers

$7.95

Wild Mushroom & Huitlecoche Tamale

w/goat cheese, fresh tomatillo sauce

vegetarian $7.95

Crispy Chicken Cracklins'

w/pickled watermelon slaw, house white BBQ dipping sauce

$9.95
ENTREES
Adult Grilled Cheese

grilled zucchini, goat cheese, house made tomato jam; includes soup, salad or hand cut fries side option

vegetarian $13.95

Rosemary Ham & Brie Grilled Cheese

w/house fig jam, fresh arugula; includes soup, salad or hand cut fries side option

$14.95

Grilled Organic Chicken Sandwich

w/jalapeno bacon, fontina, avocado, honey-mustard slaw, and soup, salad or hand cut fries

$14.95

Chinese Chicken Salad

w/mango, slivered almonds, napa cabbage, house sesame vinaigrette

$13.95

Daily Yummy Bowl

quinoa, brown rice, red lentil & butternut stew, kale salad, grilled zucchini, candied pecans, mango vinaigrette; CHOOSE ONE PROTEIN: jerk roasted chicken or seared yellowfin tuna

$14.95

Gulf Fish Tacos

grilled gulf fish*cumin-lime slaw, black beans, brown rice, salsas, cilantro crema, flour tortillas; *domestically sourced seafood may change based on availability

$15.95

add taco $4.95

Carne Asada Tacos

(2) Grilled skirt steak tacos served with black beans, brown rice, cotija, house tomatillo salsa, chayote-citrus slaw, and corn tortillas. Gluten Free. Flour tortillas available.

$16.95

add taco $4.95
SIDES
Hand Cut Fries

w/signature house agogo & ketchup sauces

$4

Black Beans

crema, scallions *vegetarian*

$4

Sautéed Vegetable of the Day

sauteed zucchini, yellow squash & sweet red peppers

$4

Tater Poutine

tater crispy tots w/caramelized andouille & house pimento cheese; full size portion

$6
DESSERTS
Apple Pie

free form, individual pie, crisp apples, creme anglaise, caramel

$7

add ice cream $1.50

Lemon Ricotta Cake

w/fresh whip cream & berries

$7

Butterscotch Puddin'

w/house made brown sugar cookies, sea salt

$7

Chocolate City

bittersweet chocolate, white chocolate mousse, fresh berry drizzle

gluten free $7

Fanny & Earl's Back Porch Ice Cream

house made vanilla bean, alternative seasonal offering

$3.50
KID'S MENU
Mr. Noodles

cavatappi pasta & butter

$4.95

Kiddie Mac & Cheese

cavatappi pasta & four cheese blend

$7.95

The Culkin

kid sized grilled cheese w/hand cut fries

$6.95

The Mini Moo

two kid sized sliders with american cheese & hand cut fries

$8.95
BURGERS
house mix of grass fed, natural angus chuck, short rib & brisket **served a la carte
Locally World Famous Cowbell Burger

natural grass fed beef, lettuce, tomato, onion, hand cut fries, house made ketchup and agogo sauces

$14.95

Equally Famous Cowbell Harvest Burger

signature combination of brown rice, red beans & roasted veggies, lettuce, tomato, onion, hand cut fries, house made ketchup and agogo sauces

vegetarian $13.95

The Mele May Burger

Signature Burger topped with Caramelized Andouille, Swiss Cheese, Grilled Pineapple, Teriyaki-Sweet Onion Relish, LTO, signature agogo and ketchup & hand cut fries.& Hand Cut Fries. Named for Chef's Paternal Grandmother who was born "on a little island in the Pacific."

$15.95
BURGER & SIDES ADD-ONS
House Made Pickle Preserves (bread-n-butter style)

$0.25

House Made BBQ Sauce

$0.50

white cheddar, american, swiss, blue, house made pimento, or house made pepper-jack cheese

$1

zinfandel, bacon & onion compote

$1

applewood smoked bacon

$1

fried farm egg

$1

applewood smoked bacon & fried farm egg

$2

Today's Soup

sautéed vegetable of the day

Black Beans

vegetarian

Kale Salad

Mixed Green Salad

Hand Cut Fries

Cheesy Hand Cut Fries

$1.95

signature mac & cheese

$5

Tater Poutine

side-sub portion size

$5
Slide 1 of 2
Slide 2 of 2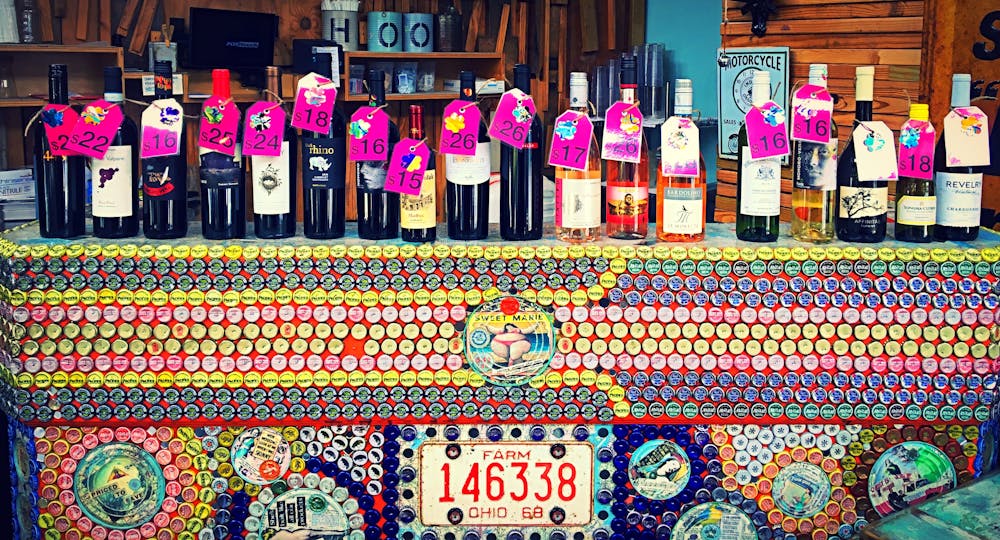 Certain ceremonies require dumping a little bit of liquid, usually alcohol, onto the ground.
During a pandemic quarantine, we believe the ceremonial pouring should also include good food, great prices, and some out of the way closet in your home your children are completely unaware of.
Enjoy life's rituals with our adult beverage fire-sale!
UPDATE 7/25/2020:
Options limited to patio dine-in, or
waiting for take-out/carry-out orders
CRAFT COCKTAILS
selected cocktails available while you wait
BEE's KNEES

gin, fresh lemon juice, agave, rose water

$6

HIBISCUS FLOWER WHISKEY SOUR

bourbon whiskey, fresh lemon, hibiscus

$6

MARGARITA

tequila, fresh lime juice, agave

$6

SULTANA SMASH

vodka, lime, fresh white grape juice, jalapeno, orange bitters soaked sugar cube

$6

THE NASTY WOMAN

vodka, bittersweet chocolate amaro, fresh lemon & orange juices

$6

YARD SALE

signature cocktail; rum, hibiscus flower tea, fresh lime, caribbean spices

$6
GRAB-N-GO
WHITE CLAW HARD SELTZER

spiked seltzer water; choice of mango or black cherry

$4

Skinny Freezer Vodka Pops

frozen, push-up "popsicle" sticks; apple-tini, lemon-drop, cosmopolitan, watermelon lemonade

$4

Skinny Freezer Sangria Pops

frozen, push-up "popsicle" sticks; blackberry-pomegranate, peach mango, orange berry, strawberry-grapefruit

$4

THE GROUCHY POUCHY

a ziploc sealed beverage pouch featuring 16oz of any featured cocktail. Think of it as similar to the unopened bottle containing your wine. But plastic. And reusable. You provide the ice, we'll provide the liquid delights which ease the grouchy.

$12
WINE NOT?
Reds, Whites and Sparkling
Romona Spritzer

italian white wine, organic ruby red grapefruit, bubbles for fun

each $8

pack of 4 $28

Francois Montand Blanc Champagne

187ml/6oz split bottle.

$8

Cotes de Gascogne, france 2019

house white; sauvignon blanc

glass $6

bottle $16

Honoro Vera Rubena, Spain 2018

crisp, house white

glass $5

bottle $16

Affinitas, Tokaj, Hungary 2017

Furmint

glass $7

bottle $23

Barker's Marque Three Brooms, new zealand, 2019

sauvignon blanc

glass $7

bottle $24

Revelry, washington, 2018

chardonnay

glass $7

bottle $24

Sonoma-Cutrer, california, 2017

chardonnay (1/2 btl)

half-bottle only $18

Elvio Tintero Vino Rosato, Italy

Italian rose that is so stupid good & affordable you don't mind being struck dumb for a moment

glass $6

bottle $17

Le Morette Rosato, Italy, 2018

Italian Rose

glass $9

bottle $26

Honoro Vera Irrevernt Red, Spain 2018

house red; blend

glass $5

bottle $16

Black Rhino, south africa, 2016

Cabernet Sauvignon; house red; percentage of proceeds dedicated to fight black rhino extinction

SOLD OUT $6

SOLD OUT $18

Cantine Valpane, Rosso Pietro, Italy, 2017

Organic Red

glass $6

bottle $22

Runquist 1448, California, 2018

California Red Table Blend

glass $7

bottle $23

stoller estate, "chemistry," oregon, 2018

Pinot Noir

glass $6

bottle $22

Atlas Wine Co., "Omen," California, 2017

Cabernet Sauvignon

glass $7

bottle $25

Prisoner "Saldo," california, 2017

Zinfandel

glass $10

bottle $28

Bernede "Clos La Coutale" Cahors, France 2018 (1/2 bottle)

Malbec

1/2 bottle only $15

Familia Bonfanti, argentina, 2017

Malbec

SOLD OUT $9

SOLD OUT $26

Honoro Vera Granacha, Spain 2018

Grenache

glass $5

bottle $16
DRAFT
selection of local & domestic draft beer
Miller High Life

the champagne of beers

$2.50

Wiseacre

"Tiny Bomb" Pilsner; 4.5%

$4

Nola Brewery

"7th Street Wheat" Local; Wheat; 4.5%

$4

Gnarly Barley

"Jucifer" Local; American IPA; 6%

$4

Lagunitas

Lagunitas IPA; 5.7%

SOLD OUT $4
BEER
local, domestic and imports
CRAFT CAN SPECIAL

Choose from these Local & National Craft Breweries, and design your own canned 6pack: Urban South, Nola Brewing, Oskar Blues, Wiseacre, Bell's, Lagunitas, Dale's, New Belgium Fat Tire, Terrapin

BULK SPECIAL $20

Bell's Best Brown Ale

domestic; brown ale; 5.8%

$4

Bell's "Official Hazy" IPA

domestic; ipa; 6.4%

$4

Bud Light

domestic; lager; 4.1%

SOLD OUT $3

Dale's Pale Ale

domestic; ale; 6.5%

$4

Gnarly Barley "Jucifer" IPA

local; hazy, juicy ipa; 6%

$4

Hitachino Nest White Ale

import; japanese white ale; 5.5%

$7

Hitachino Nest Yuzu Lager

import; japanese yuzu lager; 5.5%

$7

JK Scrumpy Hard Cider

domestic; organic; hard cider; 5.5%

$6

Kona Brewing "Longboard"

domestic; lager: 4.6%

SOLD OUT $4

Lagunitas "Daytime" Ale

domestic; light ale; 5.7%

$4

Lagunitas "Hazy Wonder" IPA

domestic; hazy, juicy ipa

$4

Lagunitas "Super Cluster" Ale

domestic; ale; 8%

$4

Left Hand Milk Stout Nitro

domestic; milk stout; 6.0%

$6

New Belgium Accumulation White (seasonal)

domestic; white IPA; 6.2%

$4

Nola Brewery "Hopitoulos" IPA

local; ipa; 6.5%

$6

Nola Brewery LA Light Lager

local; light lager; 4.2%

$4

Oskar Blues "Mama's Yella Pils"

domestic; pilsner; 4.7%

$4

PINKUS Organic Hefeweizen

import; traditional german hefeweizen; 5.1%

$7

Port Orleans DORADA

local; mexican style lager; 4.8%

$4

Terrapin "Luau" IPA

domestic; tropical ipa; 6.5%

$4

Urban South "Grapefruit Holy Roller" IPA

local; hazy ipa; 6.3%

$4

Urban South "Paradise Park"

local; american lager; 4.5%

$4

Wiseacre "Gotta Get Up to Get Down"

domestic; coffee stout; 5%

$4