Main content starts here, tab to start navigating
IDA UPDATE: CLOSED UNTIL FURTHER NOTICE
BEGINNING JULY 29, 2021
DINING IS AVAILABLE
INDOORS: WITH PROOF OF VACCINATION
OUTDOORS: WITH A MASK
WEDNESDAY, THURSDAY, FRIDAY & SATURDAY
--4-9pm--
Prepaid/Online Ordering available @ChowNow*
*Please place PHONE ORDERS with @ChowNow
Delivery Services available @WAITR*** and @GRUBHUB***
***delivery services limited to Wednesday & Thursday only
***additional 30% in platform delivery service charges will apply
We encourage placing orders for carry-out/pick up online @ChowNow. We offer delivery services; We do not recommend them due to additional fees levied
-For Carry-Out, Curbside pick up will be provided. You will receive instructions when ordering so as to easily expedite this service platform.
-Hands-free QRC menus are available, as well as paper.
**************************************************************************
Our staff is fully vaccinated, and appreciates your commitment to wear a mask while inside our facility. We will not condone any risk to their health and safety, or diminish their choice to participate in the FREE vaccination program overwhelmingly recommended by medical professionals and scientists.
Be well.
Breathe.
Wear a mask.
Get vaccinated.
Still wear a mask.
**************************************************************************
-Please follow/like us on instagram @cowbellnola8801 & twitter @cowbellnola for daily menu updates and information.
Tagging @cowbellnola8801 makes us smile.
**************************************************************************
DAILY SPECIALS
THE JANE'S BEER AWARD WINNING LAURENCE FISHBURGER DAILY SPECIAL

Signature grilled whitefish & shrimp patty, house spicy remoulade, micro greens and soup, salad, or hand cut fries. (yeah, we made it up, like the award)

LIMITED QUANTITY $15.95
SMALL PLATES
plates designed in smaller portions suited for appetizers, little nibblers, just-a-tasters, and those who fancy sharing several options family style.
SOUP OF THE YEAR

roasted tomato w/corn & fried okra

$6.95

SIMPLE MIXED GREEN SALAD

w/baby tomatoes, shaved onions, cucumber, house sherry-maple vinaigrette

vegetarian $5.95

KALE SALAD

w/goat cheese, candied pecans, green apples, sherry-maple vinaigrette

*peanut allergy alert $7.95

CAULIFLOWER "ESQUITES"

lime-garlic aioli, cotija cheese, cilantro, chili powder

vegetarian; gluten free $7.95

THE LOVE BRUSSEL

w/pan roasted brussel sprouts, smoked bacon, macrona almonds, red flame grapes

*peanut allergy alert $8.95

COWBELL SIGNATURE MAC & CHEESE

cavatappi pasta, four cheese blend, roasted poblano peppers

$8.95

WILD MUSHROOM TACOS

street food style; Oaxacan cheese, corn tortilla, epazote; vegetarian; gluten free

vegetarian; gluten free $12.95
SANDWICH
ADULT GRILLED CHEESE

roasted asparagus, goat pimento cheese, green tomato jam; includes soup, salad or hand cut fries side option

vegetarian $12.95

CARNE ASADA MULITA

street food style grilled cheese w/flatbread, guacamole, tomatillo sauce, oaxacan cheese; vegetarian option available

vegetarian available $13.95

CRISPY CHICKEN SANDWICH

jalapeno bacon, swiss, hot honey sauce, and soup, salad or hand cut fries side option

$13.95
BIG PLATES
DAILY YUMMY BOWL

Greek horiatiki salad w/feta, kalimata olives, green beans, quinoa tabbouleh, lemon-mint roasted veggie hummus, mixed greens, red wine vinaigrette. Available Protein Add-Ons and Pricing listed below.

salad sans protein $8.95

add organic grilled chicken $6

add grilled steak $8

add grilled fish $8

add vegetarian herb marinated tofu $4

HONEY-LIME GRILLED ORGANIC CHICKEN

plantains, black beans, grapefruit-avocado salad

organic $16.95

GRILLED GULF FISH TACOS

(2) tacos, citrus slaw, black beans, rice, pico de gallo, crema, flour tortillas; corn tortillas available

gluten free $15.95

GRILLED DAILY STEAK

watermelon & butter lettuce wedge salad, blue cheese vinaigrette and house white BBQ sauce

MRKT $ $27.95
BURGERS
house mix of grass fed, natural angus chuck, short rib & brisket **served a la carte
LOCALLY WORLD FAMOUS COWBELL BURGER

the original natural grass fed beef, lettuce, tomato, onion, hand cut fries, house made agogo sauce

$13.95

EQUALLY FAMOUS COWBELL HARVEST BURGER

signature combination of brown rice, red beans & roasted veggies, lettuce, tomato, onion, hand cut fries, house made agogo sauce

vegetarian $11.95
BURGER ADD-ONS & SIDES SUBSTITUTIONS
House Made Pickle Preserves (bread-n-butter style)

$0.25

House Made BBQ Sauce

$0.50

white cheddar, american, swiss, blue, house made pimento, or house made pepper-jack cheese

$1

zinfandel, bacon & onion compote

$1

applewood smoked bacon

$1

fried farm egg

$1

applewood smoked bacon & fried farm egg

$2

Today's Soup

side sub

Kale Salad

side sub

Mixed Green Salad

side sub

signature mac & cheese

side sized sub

$5
KID'S MENU
MR. NOODLES

cavatappi pasta & butter

$4.95

KIDDIE MAC & CHEESE

cavatappi pasta & four cheese blend

$7.95

THE CULKIN

kid sized american grilled cheese w/hand cut fries

$6.95

THE MINI MOO

two kid sized sliders with american cheese w/hand cut fries

$8.95
DESSERTS
COWBELL HO-HO

kahlua creme filled chocolate roll, creme anglais, mocha mousse

$6.95

SIGNATURE APPLE PIE

free form, individual pie, crisp apples, rum caramel

$7.95

add ice cream $1.50

LEMON RICOTTA CAKE

w/fresh whip cream & berries

$7.95

CHOCOLATE CITY

bittersweet chocolate, white chocolate mousse, fresh berry drizzle

gluten free $7.95
Slide 1 of 2
Slide 2 of 2
HOUSE MADE OPTIONS
alternative options developed and made in house
HIBISCUS FLOWER ICED TEA

house made tea with antioxidant rich hibiscus flowers, fresh lime juice, clove, cinnamon, and ginger flavors; tart & sweet

$2.50
IN THE CAN
coke, diet coke, sprite

add grenadine for shirleys & roys

$2.25

angostura aromatic lemon & lime bitters

$2.75
BOTTLED
Fiji Bottled Water

11.5 oz

$2

fentimans botanicals

ginger beer, rose lemonade, wild elderflower, cherrytree cola, curiosity cola

$4

jarritos

lime, mandarin, mango, pineapple, strawberry

$2.25

mexican coke

$2.75

MAINE ROOT SARSPARILLA

bottled, craft root beer

$2.75

virgil's micro brew

cream soda

$3.50
HOTTIES
french roast coffee

$2.50

mighty leaf black tea

earl grey, organic breakfast, vanilla bean

$2.50

mighty leaf green tea

tropical green, organic spring jasmine

$2.50

mighty leaf herbal tea

camomile-citrus, ginger twist, organic mint melange, hibiscus

$2.50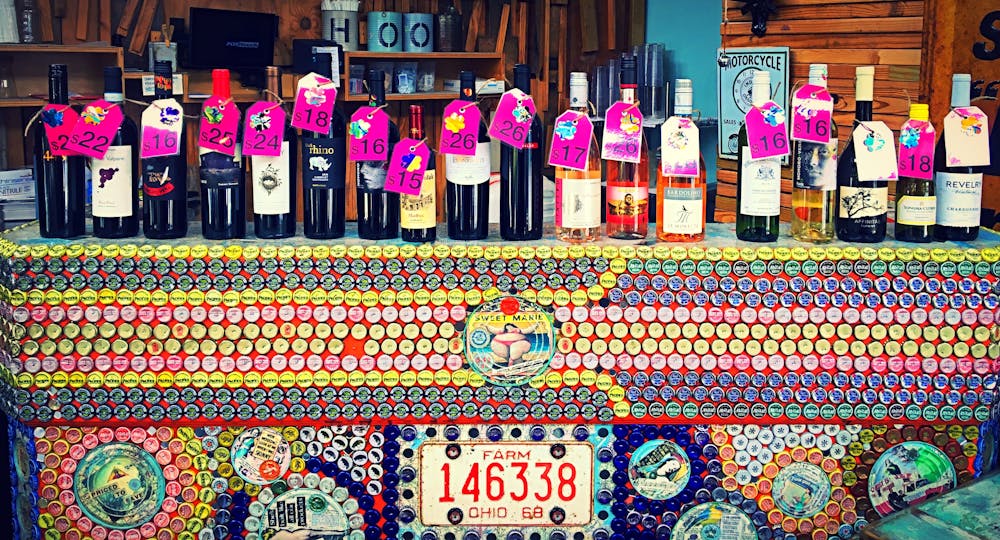 Certain ceremonies require dumping a little bit of liquid, usually alcohol, onto the ground.
We believe the ceremonial pouring should also include good food, great prices, and some out of the way closet in your home your children are completely unaware of.
Enjoy life's rituals with our adult beverages
Options limited to patio dine-in, or
waiting for take-away orders
CRAFT COCKTAILS
selected cocktails available while you wait
HIBISCUS WHISKEY LEMONADE

bourbon whiskey, fresh lemon, jamaica tea

glass $5

carafe $20

MARGARITA

tequila, fresh lime juice, agave

glass $5

carafe $20

WHITE SANGRIA

white wine, rum, brandy, orange liqueur, fresh juices

glass $5

carafe $20

AUNT BEE'S KNEES

signature cocktail w/gin, fresh lemon juice, botanical rose water & agave

glass $5

carafe $20

57 CHEVY

vodka, southern comfort, pineapple juice, orange juice, our house made hurricane

glass $5

carafe $20

SULTANA SMASH

vodka, orange liqueur, fresh grape & lime juice w/a jalapeno kick

glass $5

carafe $20
GRAB-N-GO
NEW BELGIUM "FRUIT SMASH" HARD SELTZER

BERRY BLAST (strawberry, raspberry, cherry), PINK LEMONADE (lemon, raspberry) or TROPICAL PUNCH (mango, guava, passionfruit)

$5

ZONY MASH HARD SELTZER

pop watermelon

16oz $6.50

THE GROUCHY POUCHY

a ziploc sealed beverage pouch featuring 12oz of any featured cocktail. Think of it as similar to the unopened bottle containing your wine. But plastic. And reusable. You provide the ice, we'll provide the liquid delights which ease the grouchy.

$10
WINE NOT?
Reds, Whites and Sparkling
ROMONA SPRITZER

italian white wine, organic ruby red grapefruit, bubbles for fun

each $8

pack of 4 $28

FRANCOIS MONTAND BLANC DE BLANCS, CHAMPAGNE

187ml/6oz split bottle.

$8

ERCOLE MONFERRATO BLANCO, Italy, 2020

House White

glass $5

bottle $25

CASA GIRELLI CANALETTO, Italy, 2020

Pinot Grigio

glass $5

bottle $20

BETTER HALF, New Zealand, 2020

Sauvignon Blanc

glass $7

bottle $25

BACCHUS, California, 2019

Chardonnay

glass $8

bottle $30

ERCOLE PIEDMONTE ROSATO, italy, 2020

Italian House Rose

glass $5

bottle $25

ELVIO TINTERO VINO ROSATO, Italy

Italian rose that is so stupid good & affordable you don't mind being struck dumb for a moment

glass $8

bottle $28

ERCOLE BARBERA DEL MONFERRATO, Italy, 2019

House Red

glass $5

bottle $25

BODEGAS TINEDO CALA 1, Italy, 2017

Red Blend

glass $9

bottle $30

HOPE & GRACE, California, 2014

Pinot Noir

glass $11

bottle $40

DOMAINE DE LA SOLITUDE, France, 2018

Cotes du Rhone

glass $9

bottle $32

MOUTON NOIR SHEEP'S CLOTHING, Washington State, 2018

Cabernet Sauvignon

glass $10

bottle $36
DRAFT
selection of local & domestic draft beer
LAGUNITAS

IPA; 5.7%

pint $6.50

pitcher $18

PABST BLUE RIBBON

the champagne of beers

pint $3

pitcher $10

WISEACRE

"Tiny Bomb" Pilsner; 4.5%

SOLD OUT $6.75

ZONY MASH (12oz)

Makin' Groceries; Session Pale Ale; 5.6%

$8
BEER
local, domestic and imports
MILLER LITE

domestic; ale; 4.2%

$3.50

ABITA AMBER

domestic; ale; 4.2%

$4

BELL'S OBERON

domestic; seasonal summer wheat; 5.8%

$4.50

NOLA BREWERY 7th St. WHEAT

local; wheat; 5.2%

$5

OSKAR BLUES' MAMA'S YELLA PILS

domestic; pilsner; 4.7%

$4

SIERRA NEVADA PALE ALE

domestic; pale ale; 5.6%

$4

OSKAR BLUES' LAGER

domestic; pale lager; 4.2%

$4

GREAT RAFT REASONABLY CORRUPT

local; black lager; 6.5%

$5

WISEACRE "TINY BOMB" PILSNER

domestic; pilsner; 4.5%

$4