Main content starts here, tab to start navigating
Available for Phone-in/Take-Out/Walk-Up and Delivery only; We are offering delivery services through WAITR & GRUBHUB**, or please call (504)866-4222 to place an order directly**
TUESDAY-THURSDAY: 4-8pm
FRIDAY & SATURDAY: 12-8pm
We encourage everyone to **Call-In your order with COWBELL directly whenever possible, or choose Carry-Out to Pick-Up your order on any delivery service platform. **Delivery services are charging and additional 30% in commissions, platform usage, and assorted fees to businesses utilizing them, which, by necessity, results in inflated costs per item to you, the customer.
Please consider stopping by, utilizing our curbside options, enjoying $5 cocktails or $3 local/import beers while waiting safely whenever you've got "the fever for more COWBELL," instead. We miss seeing your faces!!
**PLEASE DO NOT leave your order on Voicemail or email; If directed to voicemail during posted hours of operation, please wait a moment, and try your call again.
PRO TIP: Check out our Adult "Hooch" menu for useful, reasonably priced bottled WINE, COCKTAILS, and bottled/canned BEER to enhance those moments when you've elected to hide from your children.
-Curbside pick up will be provided. You will be receive instructions when ordering so as to easily expedite this service platform.
-Hands-free QRC menus are available
-Don't be surprised if you receive a artfully decorated to-go container, or "thank you" lagniappes; We have to find constructive, safe and creative ways to manage a sense of normalcy, and express our gratitude, just like everyone else. Check 'em out, and tag them to share with @lagniappetakeoutart or @cowbellnola8801 on instagram.
-please follow/like us on instagram, facebook & twitter @cowbellnola for daily menu updates and information. Tagging @cowbellnola makes us smile.
Be Well.
Wash Your Hands.
DAILY SPECIAL 5/30/2020
limited specials available daily
SPECIAL APPETIZER: DUCK QUESADILLA 5/30/2020

grilled duck, smoked manchego & nectarine salsita

LIMITED QTY $11.95

3 COURSE FAMILY MEAL: CHICKEN FRIED STEAK 5/30/2020

chicken fried steak w/garlic mashed potatoes entree, mixed greens salad & lemon ricotta cake dessert. **AVAILABLE AFTER 3pm**

SERVES 2: $40

**SOLD OUT**SERVES 4: $75

**SOLD OUT**SPECIAL DESSERT: FRESH CHERRY PIE 5/30/2020

individual, free form cherry pie

SOLD OUT $8
STARTERS
Soup of the Day

Chicken Pisole Verde

$7.95

Kale Salad

candied pecans, green apples, sherry-maple vinaigrette

$8.95

Cowbell Signature Mac & Cheese

cavatappi pasta, four cheese blend, roasted poblano peppers

$9.95

The Love Brussel

roasted brussel sprouts, smoked bacon, macrona almonds, red flame grapes

$10.95

Figgy Toast

braised andouille, figs, blue cheese croutons

$10.95

Cast Iron Roasted Chicken Wings

smoked bacon, pickled chilies

$11.95
ENTREES
Adult Grilled Cheese

grilled asparagus, goat cheese, house made tomato jam; includes soup, salad or hand cut fries side option

$14.95

Daily Yummy Bowl *Grilled Jerk Yellowfin Tuna 5/30/2020

*grilled protein (beef, chicken or seafood), quinoa, black beans, brown rice, roasted veggies, grilled asparagus, kale salad, candied pecans, mango vinaigrette *changes based on availability (5/30/20: grilled jerk yellowfin tuna)

$16.95

Grilled Shrimp Cobb Salad

roasted corn, avocado, bacon, egg, blue cheese, jalapeño-ranch dressing

$16.95

Field Mushroom & Corn Truffle Tacos

queso fresco, potatoes, rajas, black beans, arroz verde, corn tortillas *vegetarian*

$15.95

add taco $2.95

Gulf Fish Tacos

grilled gulf fish*, black beans, arroz verde, chayote-citrus slaw, cilantro crema, flour tortillas *5/1/2020 GRILLED DRUM *domestically sourced seafood may change based on availability

$16.95

add taco $4.95

Organic Lime Grilled Chicken

green chili frijoles, avocado salsa, pico de gallo, flour tortillas

$18.95
SIDES
Hand Cut Fries

$5

Black Beans

crema, scallions *vegetarian*

$5

Sautéed Vegetable of the Day

$6

Grilled Asparagus

$7
DESSERTS
Apple Pie

free form, individual pie, crisp apples, creme anglaise, caramel

$8

Chocolate City

bittersweet chocolate, white chocolate mousse, fresh berry drizzle *gluten free*

$8

Fanny & Earl's Back Porch Ice Cream

house made vanilla bean, alternative seasonal offering

$3.50
BURGERS
house mix of grass fed, natural angus chuck, short rib & brisket served a la carte
Locally World Famous Cowbell Burger

natural grass fed beef, lettuce, tomato, onion, house made ketchup and agogo sauces

$13.95

Equally Famous Cowbell Harvest Burger

signature combination of brown rice, red beans & roasted veggies, lettuce, tomato, onion, house made ketchup and agogo sauces *vegetarian*

$11.95

Soon to be Famous Hot Tuna Burger

seared sushi grade ahi tuna steak, hoisin-sirachi slaw, pickled ginger aioli

$16.95

Crispy Fried Chicken "Burger"

applewood smoked bacon, swiss, creamy slaw, habanero honey

$14.95
BURGER & SIDES ADD-ONS
hand cut fries

$2

House Made Pickle Preserves (bread-n-butter style)

$0.25

House Made BBQ Sauce

$0.50

white cheddar, american, swiss, blue, house made pimento, or house made pepper-jack cheese

$1

zinfandel, bacon & onion compote

$1

applewood smoked bacon

$1

fried farm egg

$1

applewood smoked bacon & fried farm egg

$2

soup of the day

$2

mixed greens salad

$2

kale salad

$2

sautéed vegetable of the day

$2

black beans

$2

grilled asparagus

$3

signature mac & cheese

$5
HOUSE MADE OPTIONS
alternative options developed and made in house
HIBISCUS FLOWER ICED TEA

house made tea with antioxidant rich hibiscus flowers, fresh lime juice, clove, cinnamon, and ginger flavors; tart & sweet

$2.50
IN THE CAN
coke, diet coke, sprite

add grenadine for shirleys & roys

$2.25

angostura aromatic lemon & lime bitters

$2.75
BOTTLED
Mountain Valley Spring Bottled Water

$2

Republic of Teas

blackberry-sage; ginger-peach (decaf)

$4.75

fentimans botanicals

ginger beer, rose lemonade, wild elderflower, cherrytree cola, curiosity cola

$4

jarritos

lime, mandarin, mango, pineapple, strawberry

$2.25

mexican coke

$2.75

virgil's micro brew

cream soda

$3.50
HOTTIES
french roast coffee

$2.50

mighty leaf black tea

earl grey, organic breakfast, vanilla bean

$2.50

mighty leaf green tea

tropical green, organic spring jasmine

$2.50

mighty leaf herbal tea

camomile-citrus, ginger twist, organic mint melange, hibiscus

$2.50
ITALIAN SODAS & "MOCK-TAILS"
house-made sodas; availability varies, please inquire when ordering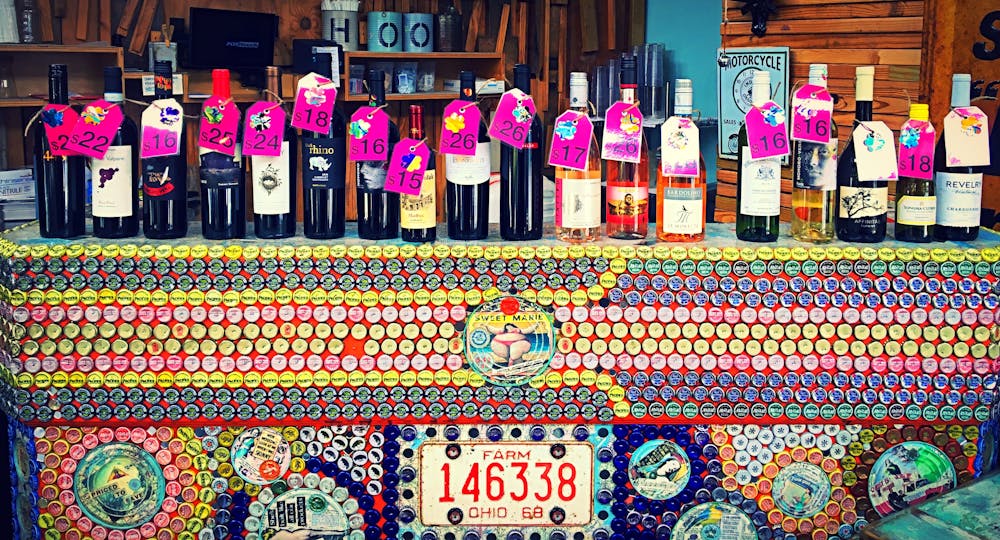 Certain ceremonies require dumping a little bit of liquid, usually alcohol, onto the ground.
During a pandemic quarantine, we believe the ceremonial pouring should also include good food, great prices, and some out of the way closet in your home your children are completely unaware of.
Enjoy life's rituals with our adult beverage fire-sale!
WINE NOT?
Reds, Whites and Sparkling
Romona Spritzer

italian white wine, organic ruby red grapefruit, bubbles for fun

each $8

pack of 4 $28

Francois Montand Blanc Champagne

187ml/6oz split bottle.

$8

Cotes de Gascogne, france 2018

house white; sauvignon blanc

bottle only $16

Honoro Vera Rubena, Spain 2018

crisp, house white

bottle only $16

Affinitas, Tokaj, Hungary 2017

Furmint

bottle only $23

Barker's Marque Three Brooms, new zealand, 2018

sauvignon blanc

bottle only $24

Revelry, washington, 2018

chardonnay

bottle only $24

Sonoma-Cutrer, california, 2017

chardonnay (1/2 btl)

half-bottle only $18

Elvio Tintero Vino Rosato, Italy,

Italian rose that is so stupid good & affordable you don't mind being struck dumb for a moment

bottle only $17

Le Morette Rosato, Italy, 2018

Italian Rose

bottle only $26

Ameztoi Txakolina, spain, 2019

Rose; They call it "The Baby Jesus"

bottle only $26

Honoro Vera Irrevernt Red, Spain 2018

house red; blend

bottle only $16

Black Rhino, south africa, 2016

Cabernet Sauvignon; house red; percentage of proceeds dedicated to fight black rhino extinction

bottle only $18

Cantine Valpane, Rosso Pietro, Italy, 2017

Organic Red

bottle only $22

Runquist 1448, California, 2018

California Red Table Blend

bottle only $23

Hope & Grace, california, 2014 **SOLD OUT**

Pinot Noir

bottle only $24

Aviary, california, 2017

Cabernet Sauvignon

bottle only $24

Atlas Wine Co., "Omen," California, 2017

Cabernet Sauvignon

bottle only $25

Prisoner "Saldo," california, 2016

Zinfandel

bottle only $26

Bernede "Clos La Coutale" Cahors, France 2018 (1/2 bottle)

Malbec

1/2 bottle only $15

Familia Bonfanti, argentina, 2016

Malbec

bottle only $26

Honoro Vera Granacha, Spain 2018

Grenache

bottle only $16
CRAFT COCKTAILS
selected cocktails available while you wait
BEE's KNEES

gin, fresh lemon juice, rose water

$5

DAILY SPECIAL

"Just the Tip" vodka, tequila, pomegranate, bitters

limited qty $5

MARGARITA

tequila, fresh lime juice, agave

$5

MOJITO

rum, fresh lime juice, mint, fresh peach puree (5/28/2020)

limited qty $5

YARD SALE

signature cocktail; rum, hibiscus flower tea, fresh lime, caribbean spices

$5
DRAFT
selection of local & domestic draft beer
Bell's Seasonal

"Hopslam" 5.8%

$4

Wiseacre

"Tiny Bomb" Pilsner; 4.5%

$4

Gnarly Barley

"Jucifer" Local; American IPA; 6%

$4

Nola Brewery

"7th Street Wheat" Local; Wheat

$4

Crying Eagle

"Louisiana Lager" Local; Lager; 4.9%

$4

Lagunitas

Lagunitas IPA; 5.7%

$4
BEER
local, domestic and imports
Nola Brewery LA Light

local; light lager;

$3

Abita Amber Ale

local; 4.5%abv

$3

Nola Brewery Hopitoulos IPA

local; 6.5%abv

$4

JK Scrumpy Hard Cider

domestic; organic; hard cider; 5.5%abv

$5

Dale's Pale Ale

domestic; ale

$4

PBR

domestic; american lager; 4.7%abv

$2

Bud Light

domestic; lager; 4.1%abv

$3

Finch's Blonde Pond Ale**SOLD OUT**

domestic; ale; 5%abv

$3

Lagunitas "Daytime"

domestic; light ale; 5.7%abv

$3

Lagunitas "Super Cluster"

domestic; ale; 8%abv

$3

Bell's Official Hazy IPA

domestic; IPA

$4

Wiseacre "Gotta Get Up to Get Down"

domestic; coffee stout; 5%abv

$3

Pacifico Clara

import; mexico; 4.5%abv

$3

Hitachino Nest White Ale**SOLD OUT**

import; japanese white ale; 5.5%abv

$6

Hitachino Nest Yuzu Lager

import; japanese yuzu lager; 5.5%abv

$6

PINKUS Organic Hefeweizen

traditional german hefeweizen; import

$6

St. Peter's Milk Cream Stout

import; UK; 6.5%abv ***temporarily out of stock****

$10